Senate panel to mull court's request to try Salvini in Diciotti case
POLITICS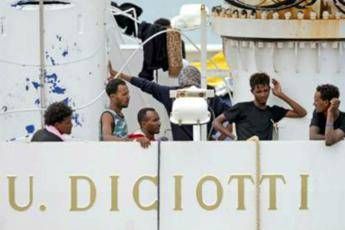 Pubblicato il: 05/02/2019 13:39
An Senate commission will on Thursday consider a special court in Sicily's request for far-right interior minister Matteo Salvini to stand trial over the case of 177 migrants who were stuck in limbo in the Mediterranean for ten days in August last year aboard a rescue vessel.
Members of the Senate's electoral affairs and parliamentary immunity committee will meet on Thursday at 8.30 am to consider if the Catania Court of Ministers request to put Salvini on trial for kidnapping the 177 migrants and other charges including abuse of office is admissible.
If the committee decides in favour of the Catania court, its request will be put to a vote by the entire 315-member Senate.
Salvini has opted to deposit a written statement to the committee instead of appearing before it in person. Last month, Salvini said he was ready to stand trial for refusing to allow the migrants to disembark from the Italian coastguard ship Umberto Diciotti at Catania's port until other countries and the Catholic church agreed to host them.
The protracted standoff between Italy the European Union over the migrants' fate - one of a series of similar disputes since Salvini took office last June - sparked international outrage.
Salvini and other members of the populist government now argue that he should not face trial in the Diciotti case as he was merely safeguarding Italy's borders and the decision to close the country's ports to the migrants was taken collectively by the Italian cabinet.
When he took office last June, Salvini barred migrant rescue ships from the country's ports, vowed no more migrants would land and pledged to deport half a million illegal immigrants from Italy, where over 700,000 people have arrived since 2014.
RIPRODUZIONE RISERVATA © Copyright Adnkronos.