Di Maio meets French ambassador after diplomatic rift
POLITICS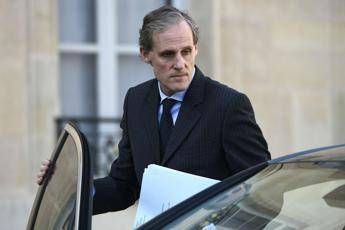 Pubblicato il: 22/02/2019 18:27
Italy's deputy premier Luigi Di Maio held talks on Friday with France's envoy Christian Masset after he was recalled earlier this month amid a major diplomatic row fuelled by Di Maio's meeting in Paris with members of the 'yellow vests' protest movement.
During the talks, Masset underlined to Di Maio France's wish "to work with Italy "in all areas in a framework of mutual respect and desire to cooperate," according to a French embassy statement.
The meeting allowed Masset and Di Maio to discuss "a whole range of European and bilateral issues where there is much common ground between France and Italy, such as propelling growth and strengthening industrial policies," the statement said.
Masset and Di Maio, also reviewed industrial cooperation at the meeting, especially in the field of innovation, the statement concluded.
Masset return to Rome on 15 February after the most significant significant diplomatic spat since World War II and following a phonecall between France's president Emmanuel Macron and Italy's head of state Sergio Mattarella that "reaffirmed the importance" of Franco-Italian ties, the Elysee Palace said in a statement .
France recalled Masset to Paris for consultations on 7 February, a move French government spokesman Benjamin Griveaux said was prompted by months of "unfounded attacks" from Di Maio and his co-deputy premier Matteo Salvini, who have heavily criticised Macron's economic and migration policies.
The meeting between Di Maio and a delegation from his anti-establishment 5 Star Movement with the 'yellow vests' on the outskirts of Paris in early February violated "the most elementary diplomacy" because it was unannounced, Griveaux said.
Di Maio, who leads the 5 Star Movement, is Italy's industry and welfare minister as well as deputy premier.
RIPRODUZIONE RISERVATA © Copyright Adnkronos.