Italy's League 'to 'join new far-right group in European Parliament'
POLITICS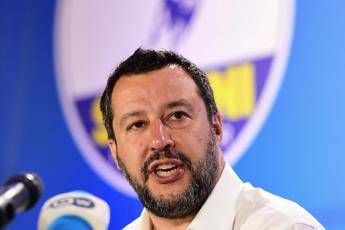 Pubblicato il: 12/06/2019 18:39
Italy's anti-migrant League party led by Matteo Salvini is joining the nascent far-right 'Identity & Democracy' group in the European Parliament, which will contain a total of 73 MEPs from nine countries, Ankronos has learned.
The League delegation will be the largest in the new grouping with 28 MEPs. Identity & Democracy will also comprise eight other delegations including from France, Germany, Austria, Finland, Denmark, the Czech Republic and Estonia, according to Adnkronos' sources.
The Huffiington Post's Italy edition cited the League's European Parliamentary delegation chief Marco Zanni as saying Identity & Democracy will also muster 22 MEPs from Marine Le Pen's National Rally party and 11 from the Alternative fur Deutschland (AfD) party.
The National Rally pushed French president Emmanuel Macron's centrist Renaissance party list into second place in the European elections in May, while in Germany, the AfD party came fourth.
Salvini's League was the undisputed winner of the European elections in Italy, easily beating its coalition partner the grassroots 5-Star Movement and the centre-left Democratic Party.
Across Europe as a whole however, far-right, populist parties achieved more of a ripple than the surge they had hoped for in the elections.
RIPRODUZIONE RISERVATA © Copyright Adnkronos.