Dozens of migrants transferred from Mare Jonio
POLITICS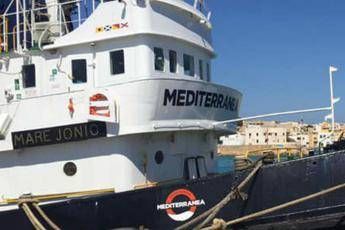 Pubblicato il: 02/09/2019 13:58
Thirty-one shipwreck survivors stranded off Lampedusa on the Mario Jonio migrant rescue ship will be transferred to an Italian coastguard vessel on Monday "for health reasons" after they began a hunger strike, Adnkronos has learned.
The move comes after the interior ministry sent a medical team aboard the Mare Jonio, which is operated by Italian NGO Mediterranea Saving Humans and three migrants were evacuated from the boat on Sunday.
Doctors diagnosed cases of acute depression in several of the migrants crowded aboard the Mare Jonio since last week, as well as five cases of scabies.
The Mare Jonio picked up some 100 migrants adrift off Libya in a deflating rubber dinghy on Wednesday. The Italian government on Thursday allowed 22 children under the age of 10 and 26 women, at least eight of whom were pregnant, to come ashore on Lampedusa.
Also on Monday, police said they had seized another rescue boat with over 100 migrants on board - the Eleonore, operated by German NGO Mission Lifeline - after it defied a government decree and entered Italian waters in a bid to reach the Sicilian port of Pozzallo.
The Eleonore's captain, Claus-Peter Reisch, tweeted that Italian authorities had boarded the ship and said that stormy weather had prompted him to seek a safe harbour after waiting for eight days.
"I need to declare Eleonore a case of emergency due to the life-threatening situation on board," he wrote.
The European Union executive is in contact with EU states over the relocation of the migrants, deputy European Commission spokeswoman Natasha Bertaud told reporters in Brussels on Monday.
RIPRODUZIONE RISERVATA © Copyright Adnkronos.