Coronavirus pandemic makes FAO's work even more vital - Qu
POLITICS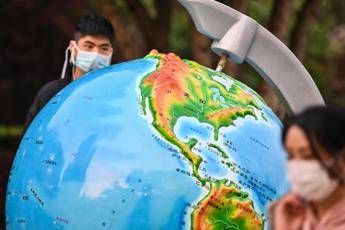 Pubblicato il: 16/10/2020 23:25
As the United Nations Food and Agriculture Organization marked its 75th anniversary on Friday, the COVID-19 pandemic has made its mission to end hunger and nourish the world even more crucial, FAO Director-General Qu Dongyu said.
"The present moment is again fraught with danger, complicated, and demands urgent action. As hunger grows once more, as the COVID-19 pandemic exposes the fragility of our food systems, history is calling upon us once more to rise to the challenge," urged Qu.
Qu was addressing FAO's global 75th Anniversary/World Food Day virtual event in Rome, which brought together Pope Francis; Italy's President; Lesotho's King and Spain's Queen - FAO Special Goodwill Ambassadors for Nutrition; UN's Secretary General; and the heads of IFAD and WFP.
World Food Day is marked this year as global hunger rises for the fifth consecutive year and a healthy diet is out of reach for 3 billion people. Nearly 700 million people still go hungry, and the pandemic could tip up to 132 million more into hunger by the end of 2020, FAO said in a statement.
This year's World Food Day aims to galvanize and accelerate action towards ending hunger and malnutrition in all its forms, and to make food and agriculture an essential part of the COVID-19 response.
Global solidarity and building more resilient, robust agri-food systems that can withstand shocks, deliver affordable and sustainable healthy diets for all, and decent livelihoods for all workers along the food supply chain, are all key, noted the event's speakers.
"Now is the time to rethink our approaches and redouble our efforts," said Qu.
Qu highlighted the importance of pioneering sciences and technologies.
"Innovation is our ally in re-imagining our food systems and ending hunger, as we are morally and politically bound to do in the next ten years," he underlined.
Saluting FAO's anniversary, Pope Francis described the organization's mission as "beautiful and important".
Francis urged for more support for FAO's and all UN food agencies' initiatives that promote sustainable and diversified agriculture, and aid small farming communities and the rural development of the poorest countries.
Using the money spent on arms and military expenses for defeating hunger and rural development instead would also be a "courageous decision", said the Pope.
"Hunger is not merely a disaster for humanity but also a disgrace... We cannot fail to respond or to act. We all are responsible," said the pontiff.
The Pope's words were echoed by UN's Secretary-General Antonio Guterres who called for intensified efforts to achieve the vision of Sustainable Development Goals - "a future where everyone everywhere has access to the nutrition they need".
To inspire action towards this vision, Guterres said, he will convene a Food Systems Summit next year.
Noting that his country was proud to host FAO's headquarters, Italy's President Sergio Mattarella said he welcomed FAO and Qu's commitment to work with Italy and many other countries in forging a 'food coalition' aimed at containing the effects of COVID-19 on food systems".
This is the moment of "crucial choices", and of "a serious global commitment...for future generations," concluded Mattarella ".
FAO Goodwill Ambassadors for Nutrition, King Letsie III of Lesotho and Queen Letizia of Spain stressed that healthy diets were everyone's right.
Letsie III underlined that most of the people who cannot afford to eat healthily live in Africa and Asia and called for "concerted efforts to bring down the cost of nutritious foods" so more people can afford them.
"The nutritional status of the most vulnerable populations groups is likely to deteriorate further as a result of the destructive health and social economic impact of COVID-19," warned King Letsie III.
"The year 2021 is looking very bleak. But I believe that if we reach deep into the hearts and pockets of the people around the world, we can perform another miracle," said David Beasley, Executive Director of WFP.
WFP last week won the Nobel peace prize for its work in improving the conditions for peace in conflict zones.
"But as long as we have man-made conflicts, we will never end hunger," Beasley said.
"It is critical that we end the wars, it is critical that we respond to climate extremes," he underlined.
This year's World Food Day honours all food heroes, who in the face of adversity continue to provide food to their communities and beyond.
Events in over 150 countries were held on Friday to mark World Food Day, to celebrate the planet's food heroes and FAO's anniversary. These events included a FAO video mapping show Rome's Colosseum landmark.
RIPRODUZIONE RISERVATA © Copyright Adnkronos.