Criminal negligence, mass manslaughter probe opened into Rigopiano
SECURITY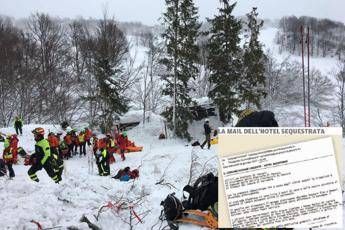 Pubblicato il: 23/01/2017 17:37
Prosecutors have opened a probe of alleged criminal negligence and mass manslaughter at the avalanche-hit Abruzzo ski hotel where at least six people died last week and 23 were still missing on Monday.
"We are probing all the circumstances leading to the catastrophe, from the hotel's construction in that location to the fact that it was open in that period, the avalanche and access to the hotel or lack of it," said Pescara's deputy public prosecutor, Cristina Tedeschini.
The massive avalanche buried the Hotel Rigopiano, located on a mountainside near the village of Farindola at around 5 pm on 18 January. Some 120,000 tonnes of snow hit the luxury hotel at a speed of about 100 kilometres an hour, causing a wing of the three-storey building to collapse, shearing the building off its foundations and shifting it 10 metres down the mountainside.
Four strong earthquake jolted central Italy earlier that day and "terrified" guests wanted to leave the Rigopiano but could not do so as the roads to the hotel were blocked by snow, its manager wrote in an email to local officials shortly before the avalanche.
The email from Bruno Di Tommaso, the hotel manager, described the situation as "worrying" and asked for a special high-powered snowplough be sent to clear the roads. The snowplough never arrived, and the first rescuers reached the hotel nearly 12 hours later after skiing across country through the night.
So far 11 people have been pulled out alive from under the hotel including four children but fears are growing for those still missing.
Workers at the scene are now in a race against to time to save any guests or staff who may have survived in air pockets inside the hotel, amid criticism of the speed and efficiency of the rescue effort.
In a statement on Monday, Italy main firefighters' union said there were just 25 firemen working to rescue any remaining survivors at the Rigopiano in difficult physical conditions.
"I would expect the ministry of the interior to deploy at least 200 in these circumstances," said the Conapo union's secretary-general Antonio Brizzi.
Italian premier Paolo Gentiloni said on Sunday his government would work to find ways to give the national bodies involved in emergency and reconstruction operations more powers to get around bureaucracy.
"We must be faster, and to do so we have to give more effective powers," Gentiloni told state television RAI.
RIPRODUZIONE RISERVATA © Copyright Adnkronos.