Four children saved from avalanche set to leave hospital
SECURITY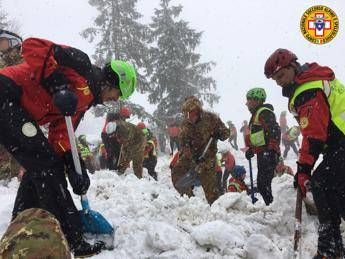 Pubblicato il: 23/01/2017 12:39
The four children aged between six and nine who were pulled alive from a hotel hit by an avalanche in central Italy last week were on Monday due to be discharged from hospital in Pescara, according to doctors.
Doctors said the four children - three boys and a girl - were in remarkably good health after being trapped for 40 hours or more inside the Rigopiano ski hotel near Farindola. They were admitted to hospital with mild hypothermia and were dehydrated after their ordeal, said doctors.
Last Wednesday's avalanche demolished part of the three-storey hotel and uprooted it from its foundations, shifting it 10 metres down the mountainside and burying it under two metres of snow.
The first child to be rescued was 8-year-old Gianfilippo Parete, who was pulled out on Friday with his mother Adriana Vranceanu to applause. The boy's sister Ludovica, 6, was rescued later that day. The children's father Giampiero Parete had gone to the family's car when the avalanche struck and raised the alarm via a WhatsApp message to his boss.
The other two children, Samuel Di Michelangelo, 7, and Edoardo Di Carlo, 9, were rescued between Friday and Saturday.
Rescuers had as of Monday saved 9 people from the hotel and had located a further two survivors. They had recovered six corpses while 23 people were still missing. Among the dead were Eduoardo Di Carlo's parents Nadia Acconciamessa and Sebastiano Di Carlo, while Samuel Di Michelangelo's parents were missing.
The five adults rescued from the Rigopiano were all taken to hospital in Pescara, where doctors described as "stationary" the condition of one survivor who required surgery to his arm.
The rescue operation in the remote mountain location has been hampered by bad weather and the risk of further avalanches following unusually heavy snowfalls over the past week and four strong earthquakes that rocked Abruzzo and neighbouring regions of central Italy last Wednesday.
Thousands of tremors have jolted the area since last Wednesday's earthquake including fourteen in Abruzzo's province of L'Aquila on Monday, the strongest of which was at 4.33 am and registered magnitude 3.0.
RIPRODUZIONE RISERVATA © Copyright Adnkronos.