Regeni's mother appeals to Pope Francis
SECURITY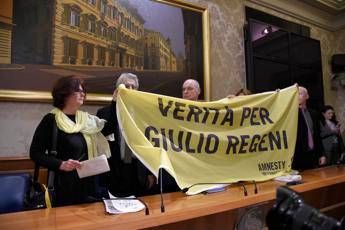 Photo: Andreas Solaro/AFP
Pubblicato il: 03/04/2017 17:27
The mother of slain Italian doctoral student Giulio Regeni on Monday asked Pope Francis to highlight the unsolved case of her son's brutal 2016 murder during his upcoming visit to Egypt on April 28-29.
"We are sure the Pope cannot fail to remember Giulio on this trip, joining our concrete demand for truth to finally get peace," Paola Regeni told journalists at the Italian Senate upper house of parliament.
Regeni and her husband said that 14 "surreal" months had passed with no satisfactory response from Egypt over the abduction, torture and murder of their son.
Regeni's parents and their lawyer as well as the Italian Senate's human rights commission president, Luigi Manconi were among participants at a conference held there Monday entitled 'The Death of Giulio Regeni - a State Killing'.
The Regenis' "heartfelt" appeal to Francis came after the pontiff appeared interested in the case when he met them earlier this year, Manconi told Adnkronos.
"Now the Pope is going to Egypt they hope he will refer to their son in his speeches," Manconi said.
The Regeni family's lawyer, Alessandra Ballerini, said during Monday's press conference that 28-year-old Regeni had been the victim of "state murder," and that she had evidence two senior security officials were involved in his disappearance.
Italy withdrew its ambassador to Egypt over Regeni's killing early last year, which experts and officials widely believe was the work of elements of the security forces - despite staunch denials by Egypt's president Abdel-Fattah al-Sisi and his government.
Regeni, an Italian PhD student at Cambridge University, disappeared in Cairo on 25 January, the fifth anniversary of the 2011 uprising that overthrew longtime ruler Hosni Mubarak.
Ten days later, Regeni's battered, disfigured body was found dumped on the Cairo-Alexandria highway, bearing signs of torture. He had been researching independent trade unions in Egypt and had published articles critical of the government, writing under a pseudonym.
Egypt has pledged to bring Regeni's killers to justice and Egyptian and Italian investigators have held regular meetings in Rome.
Italian officials have stated that they have received all the requested evidence – such as phone records - but more than a year after Regeni's murder, the investigation is ongoing with no apparent sign of the case being solved.
At a meeting with Italy's foreign minister Angelino Alfano in March, his Egyptian counterpart Sameh Shoukry reiterated that Cairo would do its all to get to the bottom of Regeni's case, Alfano said after their meeting.
Cairo was "prepared to retrieve the truth out of any drawer it might be in, giving a helping hand until the end to find those responsible for the murder," Alfano stated.
RIPRODUZIONE RISERVATA © Copyright Adnkronos.