Trump attack in Syria responded to 'a war crime' says Italy
SECURITY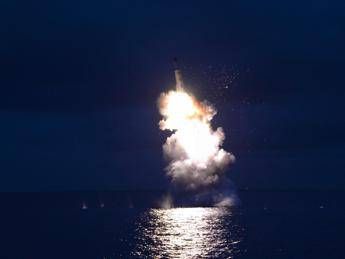 Pubblicato il: 07/04/2017 13:59
US missile strikes in northern Syria ordered by United States president Donald Trump were a response to a "war crime", Italy said Friday, referring to the suspected chemical attack on a rebel-held town earlier this week that killed at least 70 people among them 20 children.
"I am certain that overnight action by the US can accelerate the prospects for a negotiated settlement of the Syrian crisis," said Italy's premier Paolo Gentiloni.
"This must involve Russia in a decisive and constructive role," he added.
The Syrian army said the overnight US missile strikes on Shayrat airfield near Homs killed six people and caused "extensive material damage". It called the attack "blatant aggression" that made the US a "partner of terrorist groups" including the Islamic State.
The UK-based monitoring group the Syrian Observatory for Human Rights reported on Friday that seven officers and members of the Syrian military including an airforce colonel died in the US air raid.
The US said it fired 59 Tomahawk cruise missiles from two of its destroyers in the Mediterranean, hitting the Shayrat air base, from where it said the alleged chemical attack by Syrian jets was launched on the town of Khan Sheikhoun on Tuesday.
Syria's state-run news agency Sana said nine civilians including four children were killed in villages around Shayrat airbase in Friday's missile attack and seven more people were injured.
Trump said the attack was "in the vital national security interest" of US and the Pentagon said "extraordinary measures" were taken to avoid civilian casualties.
Western allies of the US as well as Israel voiced support for Trump's decision to launch air strikes, as did Turkey, which called for a no-fly zone and safe zones in Syria to be put in place without delay.
But Russia and Iran, who are backing Assad in Syria's devastating civil war denounced the missile strikes.
Russian president Vladimir Putin's spokesman Dmitry Peskov said Putin regarded the US action as "aggression against a sovereign nation.
Iran said the missile attack was a "dangerous, destructive and violation of international laws " to use chemical weapons as an excuse for unilateral action.
China's government urged avoiding "further deterioration" in Syria while condemning the use of chemical weapons "by any country in any circumstances," AFP news agency tweeted.
US officials said Russian forces were warned in advance of the attack, which avoided striking parts of the air base where Russians were present.
The attack signalled Trump's determination to take "decisive action" the officials said. They and US allies said the attack was a one-off that would not lead to further escalation.
Russia has said the strikes were "ineffective" and that only 23 of the 59 missiles reached the air base.
RIPRODUZIONE RISERVATA © Copyright Adnkronos.