Egypt hails truce agreed by rival Libyan leaders
SECURITY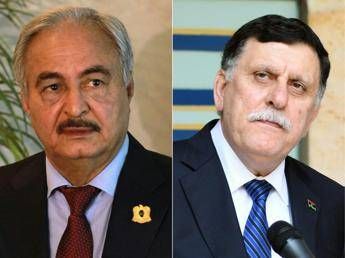 Pubblicato il: 26/07/2017 14:55
The Egyptian government has welcomed the ceasefire and other steps towards a political solution in war-torn Libya agreed by its rival governments at a meeting in Paris on Tuesday hosted by French president Emmanuel Macron.
The meeting between Libya's UN-backed prime minister, Fayez al-Sarraj, and Khalifa Haftar, a powerful military strongman based in the east, was "an additional step towards reaching a comprehensive solution in Libya," Egypt's foreign ministry said on Wednesday.
Egypt "also lauded" the two rival Libyan leaders' "commitment to preserving Libya's unity and territorial integrity and to counter-terrorism," the foreign ministry stated.
"Egypt, in cooperation with friendly countries, will continue its efforts in support of the political solution in Libya...to fulfil the aspiration of the Libyan people in restoring stability and starting the reconstruction phase, " the statement concluded.
Egypt, the United Arab Emirates and most of French military back Haftar, who has shown little commitment to power sharing and his forces of been accused of human rights violations.
Besides the truce, Sarraj and Haftar agreed on Tuesday to hold elections next year on an unspecified date and to refrain from any use of armed force other than for counter-terrorism. They also committed to "building the rule of law" in the chaos-wracked country where a myriad of armed groups have tried to fill a vacuum left by the fall of late dictator Muammar Gaddafi in 2011.
Tuesday's joint statement and the call for fresh elections signals that Sarraj's Government of National Accord has failed to unify the country since it was established in 2015 and appears to offer more to Haftar than Serraj, who has been unable to impose his authority in Libya, according to observers.
The talks, convened by Macron and chaired by the new UN envoy for Libya, Ghassan Salame, have caused some consternation in Italy, which has previously seen oil-rich Libya -a former Italian colony - as its diplomatic preserve.
It was the second time in three months that Sarraj and Haftar met after they held talks in Abu Dhabi in May but failed to agree a joint statement.
RIPRODUZIONE RISERVATA © Copyright Adnkronos.