UN slams Italian police use of water canon to disperse refugee protest
SECURITY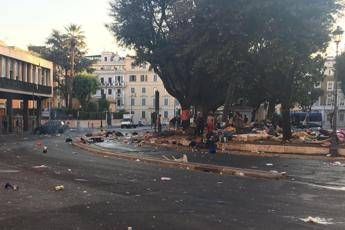 Pubblicato il: 24/08/2017 15:09
The United Nations criticised Italian police's alleged use of water canon against refugees including women and children in Rome on Wednesday as they cleared protesters and squatters from a camp in a square near the central train station.
"Rome: the removal of refugees from Piazza Independenza including families with children. After failing to find them suitable shelter, the use of water canon", the UN refugee agency in Italy tweeted with a photo of the scene.
"Terrified children" had witnessed Wednesday's "scenes of urban warfare" before being loaded onto buses "screaming and beating their fists on the windows," said Andrea Iacomini, Italy spokesman for UN children's charity UNICEF.
"It's a very sad situation," Iacomini said.
"We are talking about 800 people with refugee status who have survived wars, persecution or torture, some of whom who have Italian citizenship, who have been left to live in on the streets in terrible conditions without being offered a viable alternative by Rome city council."
One woman fell to the ground during Wednesday's operation and was slightly hurt while others knelt on the ground and cried "shame", reports said.
Police said they removed 100 foreign citizens who occupied gardens in Piazza Independenza after they were evicted from a nearby building at the weekend and refused alternative accommodation offered by the city council.
Police said protesters hurled stones and bottles during Wednesday's operation and said they had video images of some attacking officers with "open gas cannisters" and pepper spray.
"We received information that some of the squatters had gas cannisters and Molotov cocktails," police stated.
"The use of water canon prevented anything being set alight," stated police, adding that officers had "rapidly" seized the gas cannisters.
Two people were arrested and four were being questioned over the alleged attacks against police during Wednesday's clashes, police said.
"All the people occupying the square have been removed."
Most of those camping at Piazza Independenza were evicted from a building in nearby via Curtatone on Saturday and are Eritreans and Ethiopians, many of whom are refugees who have jobs in Rome.
The city council has offered the immigrants accommodation in several refugee centres across the capital and in properties in Rieti, some 80 miles northeast of Rome, but many objected to being split up and to being moved to Rieti.
Some leftwing politicians decried Wednesday's "shameful" scenes and said Rome's grassroots mayor Virginia Raggi and Italian interior minister Marco Minniti should resign over their treatment of refugees.
But anti-immigrant Northern League party leader Matteo Salvini praised Wednesday's police operation.
"Come on lads, camp clearances, public order and decorum and expulsions. Italians support you," he wrote on Facebook.
RIPRODUZIONE RISERVATA © Copyright Adnkronos.