Regeni family lawyer 'vanishes' at Cairo airport
SECURITY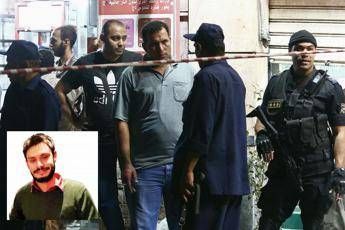 Pubblicato il: 11/09/2017 15:07
A lawyer for the family of murdered Italian graduate student Giulio Regeni disappeared without trace on Sunday at Cairo airport, according to Egypt's' Commission for Rights and Freedom (ECRF).
Ibrahim Metwaly, 53, is an opponent of Egypt's president Abel Fattah al-Sisi and his government, who are accused by human rights groups of systematic torture of carried out by the country's security forces.
The lawyer was stopped by officials and prevented from boarding a flight, according to ECRF.
Many officials and journalists in Italy and western diplomats in Egypt suspect members of Egyptian security services of having abducted and fatally tortured 28-year-old Regeni, whose battered and mutilated body was found on Cairo's outskirts, ten days after he vanished in the city in January last year.
Regeni's unsolved murder caused a rift between Egypt and Italy, which withdrew its ambassador to Cairo for 15 months.
Regeni's parents expressed anger at the Italian government's decision in August to send ambassador Giampaolo Cantini to Cairo to shed "full light on the tragic disappearance of Giulio," and said the move was an insult.
"It's only when we know the truth about who killed Giulio and why, when his torturers and all their accomplices are handed over to us, alive, that the ambassador should return to Cairo without trampling on our dignity," Paola and Claudia Regeni stated.
Egypt will on Thursday send a new ambassador to Rome, Hisham Badr - the same day that Cantini is due to present his credentials in Cairo to Egypt's foreign minister Sameh Shoukry and meet al-Sisi, state-run Arabic daily Al-Ahram reported on Monday.
Badr is due to tell the Italian government that Egypt's judicial authorities have given their Italian counterparts "all the necessary cooperation for complete clarification of the (Regeni) case," Al-Ahram said.
At the time of his disappearance, Regeni, a Cambridge University PhD student was researching independent trade unions in Egypt. Under a pseudonym, he had written articles for an Italian newspaper criticising al-Sisi's rule.
RIPRODUZIONE RISERVATA © Copyright Adnkronos.