Homeless cleared from St Peter's Square 'for security reasons'
SECURITY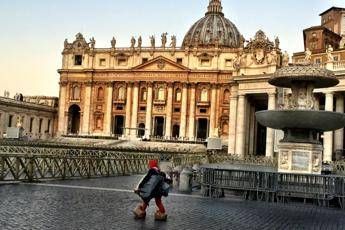 Pubblicato il: 22/09/2017 14:11
Vatican police have this week been removing the tents and belongings of scores of down-and-outs from St Peter's Square during the day due to security concerns, Vatican Radio reported on Friday, quoting a Vatican spokesman.
Vatican Radio cited Holy See press office director Greg Burke as saying the measure was for reasons of "security" and "common sense", as during the daytime the homeless leave bags, parcels, and crowds cannot be controlled.
"Their bags and suitcases cannot be continually checked and it is not always possible to know who these belong to when they go off and leave them unattended," Burke was quoted as saying.
Burke's comments came after police, Rome City Council officials, the municipal trash company Ama and Vatican gardeners began an energetic clean-up of the colonnades of St Peter's Square, via della Conciliazione, which leads up to the square, and nearby areas where the homeless camp out.
"The operation has been conducted with great sensitivity... no one is telling the homeless they cannot stay in the area during the day... they must simply respect the same rules that apply to tourists and pilgrims," the Vatican Insider website quoted unnamed Vatican sources as saying.
The homeless have been explicitly told they can sleep with their belongings at St Peter's at night, according to the sources.
The measures come as security has been tightened at churches, tourist destinations an embassies in Italy since the deadly van attack on Barcelona's Las Rambas shopping street on 22 August, allegedly staged by a Moroccan-born Islamist linked to an extremist cell in Spain.
After the attack, the Islamic State jihadist group took credit for the attack and warned Italy would be "next".
An online propaganda video released by IS militants in the Philippines on 25 August directly threatened Pope Francis, warning "We will be in Rome, inshallah" and showed photos of Francis and Emeritus Pope Benedict XVI being ripped in half.
Italy and the Vatican - the headquarters of the Catholic church, have been indicated previously as possible targets of Islamist extremism.
RIPRODUZIONE RISERVATA © Copyright Adnkronos.