Haftar meets top Italian officials in Rome visit
SECURITY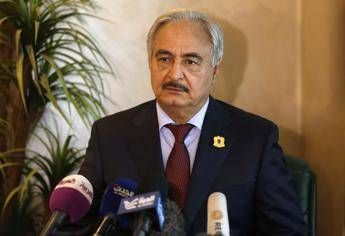 Pubblicato il: 26/09/2017 19:13
Khalifa Haftar, the powerful military strongman whose forces control nearly half of turmoil-wracked Libya was in Rome on Tuesday for talks with top Italian officials including Italy's chief of defence staff Claudio Graziano and defence minister Roberta Pinotti.
During his meeting with Graziano at the defence ministry, Haftar is believed to have discussed the situation in Libya, including migration, security, the training of Libyan coastguard by Italy's navy and the role of Italian soldiers in running a field hospital in the northwest coastal city of Misrata.
His visit to Rome is a radical change of policy for Italy, which previously shunned Haftar and viewed him as a major obstacle to stability in the region due to his refusal to recognise the government of UN-backed Libyan prime minister, Fayez al-Sarraj, based in Tripoli.
Despite allegation of human rights abuses against Haftar and his Libyan National Army, the support Haftar enjoys and his unbreakable hold on the east of country including a string of towns known as the oil crescent, European leaders and diplomats increasingly see him as part of his country's future.
The UN envoy to Libya Ghassan Salame last week set out a new a plan under which Libya could hold elections within a year, and Haftar is widely seen as a candidate who would stand for president.
In August, Salame said it would be "unrealistic" to exclude Haftar from attempts to stabilise Libya.
"Haftar has an impact on a part of Libya and supporters among the Libyan people," Salame told journalists in Rome after a meeting with foreign minister Angelino Alfano aimed at ending Libya's political crisis.
"He could have political as well as military ambitions. So it would be unrealistic for the UN special envoy to ignore such a force in that part of the country," said Salame, a former Lebanese culture minister.
RIPRODUZIONE RISERVATA © Copyright Adnkronos.