War crimes dossier on Haftar submitted to US
SECURITY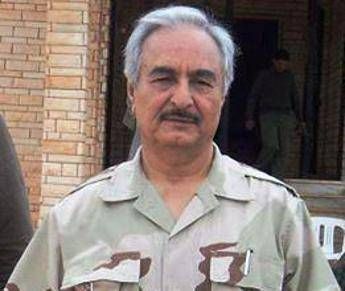 Pubblicato il: 17/10/2017 18:03
Libyan activist Emadeddin Muntasser has requested the US government investigate war crimes allegedly committed by the powerful military strongman Khalifa Haftar and has handed US officials 300 pages of evidence to back up the claims, local media reported on Tuesday.
Muntasser said he met with US government officials in Washington on 10 October and submitted a formal complaint and request for investigation regarding alleged war and financial crimes committed in Libya Haftar - who is a US citizen - and his three sons, the Libya Observer reported.
"The complaint encompasses three volumes of more than three hundred pages, and lists the specific legal statutes which were violated, legal analysis, biographies of the alleged perpetrators, and catalogs an overwhelming inventory of evidence of these war crimes," Muntasser said.
Haftar and his three sons Khaled, Saddam and Al-Saddiq have violated domestic US laws including the Neutrality Act , enlistment in the foreign service as officers and laws prohibiting war crimes, genocide and torture, Muntasser claims.
In August, Muntasser filed a complaint with the International Criminal Court accusing Haftar of orchestrating war crimes, the Libya Observer said.
Evidence is mounting against the renegade general for war crimes in eastern Libya. In one video, Haftar ordered his fighters to execute prisoners of war immediately on the battlefield in violation of the Geneva Conventions. In another video, he told a meeting in Bayda that "the siege of Derna means choking", calling for banning food, medicine and fuel supplies to more than 150,000 inhabitants of Derna.
Last month two experts – a former top Pentagon attorney and a former official at the international criminal court – said that the newly unearthed video evidence suggests that Haftar has been complicit in calling for extrajudicial killings and the unlawful siege of the eastern port city of Derna.
The analysis by Ryan Goodman, a former special counsel to the general counsel of the Pentagon, and Alex Whiting, a former international criminal prosecutor at the ICC was published on 19 September on the Just Security blog.
Despite allegation of human rights abuses against Haftar and his Libyan National Army, the support Haftar enjoys and his unbreakable hold on the east of country including a string of towns known as the oil crescent, European leaders and diplomats increasingly see him as part of his country's future.
Haftar served in Libyan dictator Muammar Gaddafi's armed forces. In 1987, he became a prisoner of war during the war against Chad. He was released around 1990 in a deal with the US government and spent two decades in Virginia, close to CIA headquarters, where he gained US citizenship and established a close relationship with US intelligence services.
RIPRODUZIONE RISERVATA © Copyright Adnkronos.