Egypt hands 'new evidence' to Italy in Regeni case
SECURITY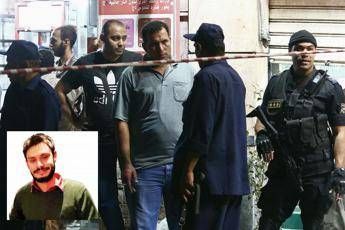 Pubblicato il: 21/12/2017 17:27
Egyptian prosecutors probing last year's unsolved murder of Cambridge PhD student Giulio Regeni said they handed "new evidence" to their Italian counterparts at a meeting in Cairo on Wednesday.
"The Egyptian investigative team supplied new documentary and verbal evidence," Egyptian prosecutors said in a statement after the meeting attended by Rome's chief prosecutor Giuseppe Pignatone, public prosecutor Sergio Colaiocco and Egypt's chief prosecutor Nabil Sadek.
The Egyptian and Italian investigators "examined the new evidence in-depth" during their meeting, according to the statement.
Egyptian investigators briefed their Italian counterparts on progress concerning the recovery of security camera footage from the Cairo underground station where Regeni was last seen on 25 January 2016.
Italian investigators then presented a detailed reconstruction of Regeni's disppearance, torture and murder based on material supplied by Egypt and handed a copy of the reconstruction to Nabil's office, according to the Egyptian prosectors' statement.
"Investigations will therefore proceed along the lines of enquiry formulated by the two prosecutors' offices," the statement said.
The Egyptian government is anxious that the "tragic" Regeni case should not harm Egypt's ties with Italy, foreign minister Sameh Shoukry said at a summit in Rome earlier this month.
Egypt will "do everything possible" to solve Regeni's murder "in a way that is satisfactory for everyone", Shoukry told the summit.
It is first case in which an Egyptian chief prosecutor has allowed a joint investigation with foreign prosecutors, Shoukry noted.
Regeni's badly tortured and mutilated body was found on Cairo's outskirts in early February last year, ten days after he vanished while heading to a friend's party in the centre of the city.
He had been researching independent trade unions in the city as part of his doctoral thesis.
So far, no arrests have been made in the case. Italy withdrew its ambassador to Egypt for 15 months in protest at a lack of progress in the investigation.
RIPRODUZIONE RISERVATA © Copyright Adnkronos.