Cooperation between Egypt and UN agencies 'solid'
SECURITY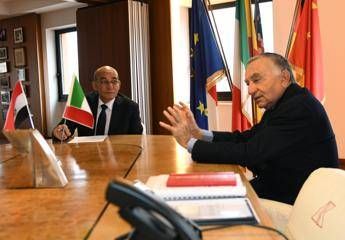 Pubblicato il: 14/02/2018 18:49
Cooperation is "proceeding steadily" between Egypt and the three United Nations agencies based in Rome - the Food and Agriculture Organisation (FAO), the World Food Programme (WFP) and the International Fund for Agricultural Development (IFAD) - Egypt's agriculture minister Abdul Moneim al-Banna said on Wednesday in the Italian capital.
"The value of IFAD projects in Egypt has reached 602 million dollars from 2004 until the present, with an especial focus on projects to increase agricultural output in al-Wadi and to reclaim new agricultural land," he said during a visit to Adnkronos news agency.
A central element of the Egyptian government's agricultural plan is to increase the amount of land under cultivation through a national project covering 1.5 million feddan (630,000 hectares), al-Banna said.
Other key aspects of the plan are boosting agricultural and fisheries production, increasing the use of greenhouses, better social welfare and a schools nutrition programme, he noted.
"The variety of the agricultural seasons represent a great opportunity to raise Egypt's high-quality agricultural exports to Egypt, above all in light of the prodigious efforts being made to re-launch the 'green corridor'," al-Banna said.
The term 'green corridor' refers to Egypt's agricultural exports to Italy and Europe.
RIPRODUZIONE RISERVATA © Copyright Adnkronos.