Eni, FAO ink clean drinking water accord in Nigeria
SECURITY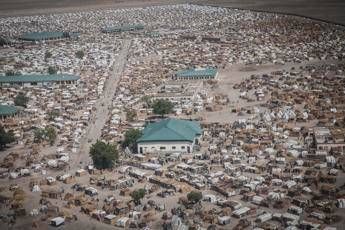 Pubblicato il: 27/02/2018 13:33
Italy's state-run energy giant Eni and the United Nations Food and Agriculture Organisation have signed an agreement to foster access to safe, clean water for domestic use and irrigation in crisis-hit northeast Nigeria, the FAO said on Tuesday.
Under the project, Eni will drill boreholes and provide them with photovoltaic power systems, including training for their use and maintenance for longterm stability, FAO said.
FAO will provide support by identifying the areas to sink the wells as well as technical expertise in the region covered by the project - Borno, Yobe and Adamawa - the states most affected by the violent insurgency waged by jihadist group Boko Haram since 2009.
FAO's assistance in the region "has helped Internally Displaced Persons in camps and those returning to liberated communities, including host communities, to return to their farms and pick up the bits and pieces of their lives again," said FAO's country representative in Nigeria, Suffyan Koroma.
The Eni-FAO project aims to give further humanitarian assistance to people who have fled their homes in the region and host communities amid "unprecedented levels of population displacements" and prolonged disruption of agriculture, livestock rearing and fishing, FAO said.
"Public-Private Partnerships allow institutions to leverage on the skills of the private sector, and help companies to respond to development needs identified by institutions," said Alberto Piatti, ENI's executive vice president for responsible and sustainable enterprise.
"They are an opportunity to enhance the role companies can play in sustainable development," Piatti added.
The Eni-FAO project is part of Eni's sustainability effort in Nigeria, which includes agricultural development, access to energy, health, training and environmental protection initiatives.
The joint project comes after Nigeria's government asked oil and gas companies to help it alleviate the suffering of victims of the Boko Haram insurgency in the northeast, FAO noted.
North-eastern Nigeria is at the heart of the larger Lake Chad Basin crisis (north-eastern Nigeria, northern Cameroon, western Chad and south-east Niger), which affects some 17 million people.
The FAO has operated Nigeria since 1978, and has programmes and projects in more than 30 states across the Federation.
Eni has had onshore and offshore activities in Nigeria since 1962.
RIPRODUZIONE RISERVATA © Copyright Adnkronos.