Threats to veto EU budget weaken Italy - Tajani
SECURITY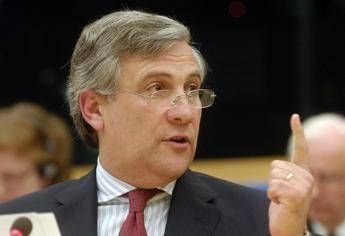 Pubblicato il: 27/08/2018 15:49
Threats by deputy premier Luigi Di Maio to veto the European Union's next budget over an alleged lack of solidarity on the thorny issue of migration ''weakens" Italy, EU parliament president Antonio Tajani said on Monday.
"You don't get concrete results from others by threats," Tajani told Italy's La7 television channel.
"I heard the government will veto the next EU budget...this is not how to get results for our country," Tajani went on.
"Maybe deputy premier Di Maio lacks experience," he said.
Di Maio made the EU budget veto threat in an interview on Monday with Turin-based daily La Stampa and on Saturday in a video on Facebook.
The threat came after representatives from EU countries on Friday in Brussels failed to agree a common approach on migration and to follow through on a deal reached in June at a summit of EU leaders to manage the influx of migrants to the bloc, easing the burden on Italy and other arrival states.
Discussions about the bloc's next long term budget running from 2021 through 2027 are still at an early stage. Italy alone can't block next year's budget as decisions on it are taken by an enhanced majority of the EU's 28 member states.
Di Maio on Thursday threatened to suspend his country's 20 billion euro annual financial contribution to the EU if member states failed to take in 177 migrants who were stranded aboard an Italian coastguard ship for 10 days during a diplomatic standoff.
If Italy were to withhold monthly payments for this year's budget, it would breach the bloc's laws and result into legal action by the EU's executive, the European Commission.
RIPRODUZIONE RISERVATA © Copyright Adnkronos.