No NGO rescue ships operating in Mediterranean claims Salvini
SECURITY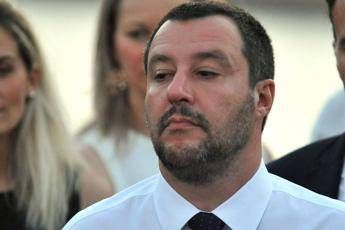 Pubblicato il: 29/08/2018 14:28
Thanks to the policies of Italy's populist government, there are no charity ships currently operating in the Mediterranean, anti-migrant interior minister Matteo Salvini tweeted on Wednesday.
"There is not a single NGO at sea. We have done more (to halt migration) in our three months in office than the (centre-left) Democratic Party did in five years," read the tweet.
"Neither investigations nor judicial probes will stop us," the tweet added.
Since he became interior minister on 1 June, Salvini has taken a tough stance on rescue operations in the Mediterranean and has set a target of "zero" migration to Italy. He has closed Italy's ports to NGO and international rescue ships, leaving hundreds of migrants stranded at sea for a week or more, sparking several diplomatic standoffs that only came to an end when the ships delivered the migrants to another country's ports or other states agreed to step in.
Prosecutors in the Sicilian city of Agrigento are probing Salvini for abuse of office and the possible kidnapping and illegal detention of 177 migrants rescued off Lampedusa who spent ten days stranded aboard an Italian coastguard vessel until Salvini allowed them to disbark at the port of Catania on Saturday. Ireland, Albania and Italy's Catholic Church have pledged to take most of the migrants.
Salvini and others on the Italian political right accuse NGO rescue ships of providing a "taxi service" for migrants and even of conniving with the people-trafficking gangs that organise the perilous boat journeys across the Mediterranean.
Salvini's predecessor Marco Minniti introduced a controversial code of conduct for charity rescue ships in the Mediterranean aimed at curbing their actions and stemming the numbers of migrants who reach Europe.
The 11 point-code requiring armed police on board NGO vessels and a ban on making calls or firing flares drew criticism from rights groups including Amnesty International and from the United Nations.
RIPRODUZIONE RISERVATA © Copyright Adnkronos.