Salvini faces fresh charges over migrant ship stand-off
SECURITY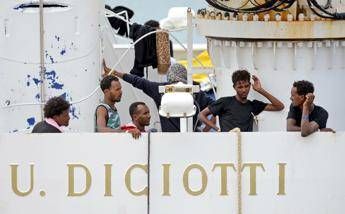 Pubblicato il: 30/08/2018 13:50
Sicilian prosecutors said on Thursday they were probing Italy's hardline interior minister Matteo Salvini for 'kidnapping in order to coerce' and 'negligence' in the case of 177 rescued migrants who were trapped aboard a coastguard ship for 10 days after Salvini refused to allow them ashore.
The prosecutors said they are also investigating Salvini's chief of staff Matteo Piantedosi for the same offences. The charge of coercion relates to Salvini's refusal to allow the 177 migrants to disembark in Italy unless the European Union agreed to redistribute them, while the negligence charge concerns a failure to respond to the coastguard's request for a safe port.
Salvini and Piantedosi are already being probed for kidnapping, illegal detention and abuse of office in the case involving the 177 migrants stranded abord the Diciotti coastguard vessel after they were picked up off Lampedusa. Salvini finally allowed the migrants to disembark in Catania on Saturday after Ireland, Albania and the Italian Catholic Church agreed to take most of the migrants.
Salvini on Thursday hailed to the two new charges he is under investigation for over this month's Diciotti incident, calling them "badges of honour".
Since he became interior minister on 1 June, Salvini has taken a tough stance on rescue operations in the Mediterranean and has set a target of "zero" migration to Italy. He has closed Italy's ports to NGO and international rescue ships, sparking several diplomatic standoffs that only came to an end when the ships delivered the migrants to another country's ports or other EU states agreed to step in.
RIPRODUZIONE RISERVATA © Copyright Adnkronos.