UN-backed govt puts Tripoli on maximum security alert
SECURITY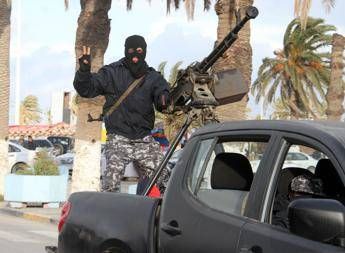 Pubblicato il: 11/09/2018 16:48
Libya's United Nations backed unity government has put its security services on maximum alert at sensitive sites in Tripoli after a deadly attack on the key National Oil Corporation's headquarters, the Libyan Observer daily reported on Tuesday.
Security is being ratcheted up to maximum levels at all sensitive sites in Tripoli including embassies and diplomatic missions in the capital, according to the daily.
The Government of National Accord's interior ministry is closely monitoring the security situation within Greater Tripoli, the Libyan Observer quoted the interior ministry as saying on its Facebook page.
Monday's attack on NOC in which four people died and 10 were injured, was staged by the Islamic State jihadist group, according to initial evidence, the daily quoted interior minister Abdul Salam Ashour as telling reporters.
Security forces have now regained "complete control" of NOC, Ashour was cited as saying.
The NOC assault came less than a week after the UN's special envoy to Libya, Ghassan Salame brokered fragile truce on 4 September that halted deadly clashes between rival militias in Tripoli.
IS claimed an assault on Libya's national election commission offices in the capital in May that killed at least 12 people.
RIPRODUZIONE RISERVATA © Copyright Adnkronos.