FAO chief and Nobel peace laureate Muhammad Yunus link violence and hunger
SECURITY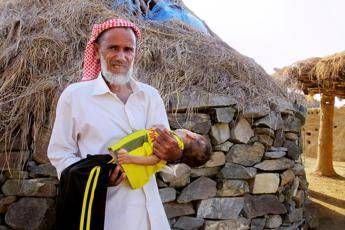 Pubblicato il: 03/10/2018 13:07
Tackling violence and hunger are interconnected, the head of the United Nations Food and Agriculture Organisation, Jose Graziano da Silva and Nobel peace prize winner Muhammad Yunus said on Tuesday - the UN International Day of Non-Violence, FAO said in a statement.
"Violence and conflict are the main cause of hunger nowadays in the world," said Graziano da Silva during a meeting with Yunus on the sidelines of the FAO's Committee on Agriculture in Rome.
"We need peace to have food security," he added.
The number chronically undernourished people has continued to rise over the past three years, da Silva also stressed.
Income-generating opportunities particularly for women and youth in rural areas are needed to eliminate these scourges, da Silva and Yuus underlined at their meeting.
"Violence is creating a problem of poverty, a problem of hunger, migration and famine," said Yunus.
"Our way of looking at it is to bring opportunities for people to help them stand on their own feet."
The renowned founder of the Grameen Bank, the so-called "Bank for the Poor", Yunus said that support for rural entrepreneurship should lie at the heart of solutions to hunger and instability.
Yunus emphasised the role played by microcredit in fostering self-reliance, especially by helping women and young people generate their own income by setting up their own businesses.
"It is sustainable and not charity-dependent.... It encourages energy and the creativity of young people particularly," Yunus said.
The impacts of conflicts and climate change, such as extreme droughts take their toll on rural entrepreneurs, particularly on women and young people in Africa, da Silva pointed out.
With the Yunus Social Business Centre, FAO is aiming to create income generating opportunities through capacity building, training and microcredit in countries like the Central African Republic that have been devastated by civil war and are trying now to rebuild their economies, said da Silva.
Graziano da Silva and Yunus also highlighted the importance of redoubling efforts create greater awareness of the growing link between conflict and hunger by strengthening collaboration between the UN agency and the FAO-Nobel Peace Laureates Alliance.
Founded in 2016, the FAO Nobel Peace Laureates Alliance's launched its first project in the Central African Republic which is aimed at enhancing capacities of internally displace people, ex-combatants, women and youth to "jumpstart" their livelihoods and adapt to peace, FAO stated.
Project beneficiaries in CAR are gaining a better understanding of how markets work, facilitating their access to improved production systems and making their farms more climate-resilient, FAO said.
RIPRODUZIONE RISERVATA © Copyright Adnkronos.