Salvini deplores World War II Nazi Holocaust
SECURITY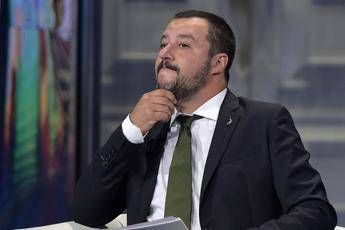 Pubblicato il: 12/10/2018 15:07
The six million Jews murdered by the Nazis in the World War II must never be forgotten and the Holocaust must unequivocally be condemned, Italy's far-right interior minister Matteo Salvini said after lawmakers met members of a Holocaust-denying Iranian think-tank - a move that outraged Italy's Jewish community and Israel's ambassador, as well as opposition MPs.
"The 'Shoa' must firmly and unquestionably be condemned," Salvini said in a statement late on Thursday after the lower house of parliament's foreign affairs committee received a delegation from the Tehran-based Institute for Political and International Studies (IPSIS).
"We must not lower our guard against what Hanna Arendt called the banality of evil - even if we do so in good faith. The memory of the Shoa must absolutely be preserved," Salvini's statement added.
IPIS organised the notorious 'Review of the Holocaust: Global Vision' conference' held in Tehran in December 2006, which was attended by prominent anti-Semites, Holocaust sceptics and deniers from dozens of countries, drawing a firestorm of international condemnation.
Iran's then foreign minister Manouchehr Mottaki said the conference sought "neither to deny nor prove the Holocaust... [but] to provide an appropriate scientific atmosphere for scholars to offer their opinions in freedom about an historical issue."
The event was necessary to counter an alleged lack of free speech in the west about the Holocaust, which Iranian officials argue is used to justify Israel's oppression of the Palestinians, Mottaki claimed.
The conference took place during the tenure of Iran's hardline president Mahmoud Ahmedinejad, who described the Holocaust as "a myth".
RIPRODUZIONE RISERVATA © Copyright Adnkronos.