Moavero meets Moscovici after EU queries govt's spending plans
SECURITY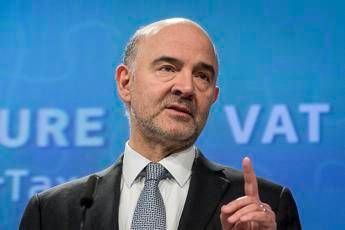 Pubblicato il: 19/10/2018 18:18
Italy's foreign minister Enzo Moavero Milanesi on Friday met the European Union's economic affairs commissioner Pierre Moscovici in Rome after the EU sent the government a letter asking for changes to its draft budget, which triples Italy's planned deficit next year.
"The meeting offered the opportunity to reaffirm the common will to continue dialogue on the draft budgetary plan sent to Brussels by the Government last 15 October within the normal institutional framework set forth in the rules of the Economic and Monetary Union," the foreign ministry said in a statement.
During their meeting, Moavero and Moscovici agreed Italy and the EU should continue dialogue over the expansionary budget "in an atmosphere of a correct, loyal and constructive exchange of their respective positions," the statement said.
Moscovici on Thursday deliver his and European Commission vice-president Valdis Dombrovskis letter to Italy's finance minister Giovanni Tria, which requests an explanation of the planned budget's "significant" and "unprecedented" deviation from EU fiscal rules and requests changes to it by 22 October.
The government has appeared on a course for a showdown with Brussels over its plan to allow the deficit to reach 2.4 percent in 2019 - three times the target set by the previous centre-left administration.
While Italy's planned deficit is well within the 3 percent limit set out in treaties, the European Commission wants Italy to keep cutting it to bring down its debt load, the largest in Europe in absolute terms and second only to Greece's as a percentage of economic output (GDP).
RIPRODUZIONE RISERVATA © Copyright Adnkronos.