'Italian aboard Boeing' that crashed in the sea off Indonesia
SECURITY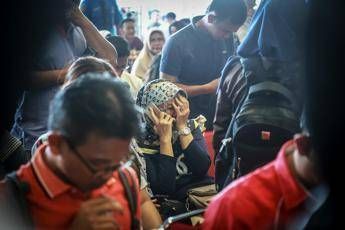 Pubblicato il: 29/10/2018 13:07
An Italian passenger was aboard the Boeing 737 which crashed into the sea on Monday shortly after taking off from the Indonesian capital, Jakarta with 189 people on board, according to sources at Italy's foreign ministry.
The ministry's crisis unit is in close contact with the Italian embassy in Jakarta and with the Italian passenger's family, the sources said.
Officials fear there are no survivors from the Lion Air Boeing 737 passenger flight which crashed 13 minutes after it took from from Jakarta's Soekarno-Hatta airport. The plane was en route for Pangkal Pinang, in the Bangka Belitung Islands.
The cause of the Lion Air Boeing 737 crash, involving a new plane in operation since August, remains unclear. Lion Air is Indonesia's largest low-cost carrier.
The plane's pilot had asked to return to Soekarno-Hatta airport shortly before it crashed about 15 kilometres off the coast, according to a local news report.
Officials said one infant and two babies, as well as two pilots and five cabin crew were aboard the doomed flight, although the airline later said there were six crew members on board.
RIPRODUZIONE RISERVATA © Copyright Adnkronos.