Salvini backs snap Venezuelan elections in call to Guiado
SECURITY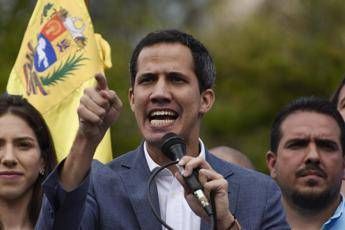 Pubblicato il: 11/02/2019 18:10
Italy's interior minister and deputy premier Matteo Salvini on Monday reiterated his "strong opposition" to Venezuela's leftist president Nicolas Maduro and his support for early elections in a "cordial" phonecall to opposition leader Jose Guaido, the interior ministry said in a statement.
"The cordial phone conversation between Salvini and the leader of Venezuela's National Assembly Guaido confirmed his strong opposition to Maduro and his full backing for a constitutional process leading to free and fair (presidential) elections rapidly," said the statement.
The statement said the phonecall took place during a meeting in Rome between Salvini and a delegation of Venezuelan lawmakers that followed a letter sent by Guaido to Salvini earlier in February.
Guiado's missive asked for a meeting in which he and the delegation of Venezuelan lawmakers could set out their plan to restore democracy in Venezuela through a fresh presidential election.
The Venezuelan delegation led by the National Assembly's foreign affairs committee head Francisco included Jose Sucre Giffuni, former mayor of Caracas Antonio Ledezma, and Rodrigo Diamanti, a humanitarian aid representative, according to the statement.
Salvini also pledged maximum attention over the safety of Guiado and his family during the ongoing crisis in Venezuela, the statement said.
During their meeting with Salvini, the delegation voiced appreciation for his "solidarity" and interest in helping end the humanitarian crisis affecting all Venezuelans and over 100,000 Italians living in the country, the statement added.
Guiado declared himself interim president on 23 January, after Maduro was sworn in for a second term. Most European states have recognised Guaido as Venezuela's interim leader, including the UK, France, Germany and Spain, but Maduro has denounced Guaido's move as a US-backed coup bid.
Venezuela's contested May 2018 presidential elections were marred by an opposition boycott and allegations of vote-rigging which triggered large protests in Venezuela amid a protracted economic crisis that has driven over million people from the country.
Italy's ruling populist coalition government is split and not likely to back any co-ordinated plan on Venezuela because the leaders of one half of the coalition, the 5 Star Movement, believes political change must come from within the country. Guaido also reportedly wrote to 5 Star leader Luigi Di Maio requesting a meeting in Rome.
Italy earlier this month is said to have blocked a joint European Union declaration implicitly recognising Guiado as interim president but has joined a new EU-led contact group on Venezuela that also contains several Latin American countries.
Guaido says Venezuela's constitution allows him to assume power temporarily when the president is deemed illegitimate.
RIPRODUZIONE RISERVATA © Copyright Adnkronos.