Unifil commander meets Lebanese defence minister
SECURITY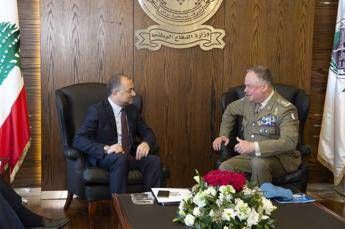 Pubblicato il: 11/02/2019 16:01
A meeting in Beirut on Monday between United Nations peacekeeping mission's chief Stefano Del Col and defence minister Elias Bou Saab in Beirut focused on the situation in the south of Lebanon and Unifil's ongoing cooperation with the Lebanese National Army, Unifil said in a statement.
During their talks, Del Col congratulated Bou Saab on his appointment and told him the UN mission wants to further strengthen its cooperation with LAF in southern Lebanon, said the statement.
Del Col also briefed Bou Saab on the situation in UNIFIL's 1,060 square kilometre area of operation and along the UN-drawn Blue Line between Lebanon and Israel which "continues to remain calm," the statement said.
Del Col thanked Lebanon's authorities for helping Unifil continue to carry out its mandate and reiterated a UN call for the LAF "to undertake follow-up actions" on the recently discovered tunnels allegedly built by Lebanese Shia group Hezbollah.
Del Col stressed also the importance for the LAF to scale up the rapid deployment of its Model Regiment in south Lebanon in line with UN Security Council resolution 2433, adopted in August 2018, according to the statement.
"UNIFIL is engaged with a variety of potential donors to facilitate this process; however, at the same time it is vital that the LAF be seen as prioritizing this effort," said Del Col.
He also called on the LAF to build a "right-sized and sustainable naval component."
Bou Saab replaced Yaacoub Sarraf as defence minister in Lebanon's new national unity government which was announced on 1 February, nearly nine months after national elections last May.
RIPRODUZIONE RISERVATA © Copyright Adnkronos.