Officials eye tighter security at Colosseum
CULTURA E MEDIA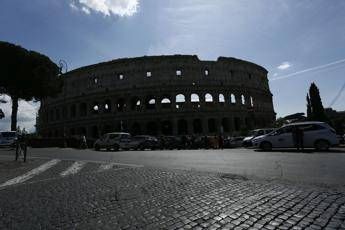 Pubblicato il: 17/01/2017 19:47
Italian officials want to install security cameras and a control room to monitor intruders and vandals at Rome's world-famous Colosseum monument and surrounding archaeological area, especially at night.
"We don't have the staff to ensure security during the night," Francesco Prosperetti, the special superintendent for the Colosseum and the Roman Forum said on Tuesday.
"Unfortunately, we can't put security staff in guard inside the monument," Prosperetti said.
"What we can have is a video surveillance control room for the Palatine, Roman Forum and the Colosseum," he told journalists.
He was speaking after two Brazilians managed to scale a security fence at the Colosseum in the early hours of Monday. Later that day, graffiti was found sprayed on a pillar of the recently restored 2,000-year-old monument.
Prosperetti said he would like to remove the "unsightly" security fence erected to protect the Colosseum and replace it with the planned video-surveillance system.
The archaeological superintendency will meet with Rome's prefect, the army and police "as soon as possible" and "as an urgent priority" Prosperetti stated.
"This will be to coordinate security, especially during the hours the Colosseum is closed to visitors," he said.
A three-year clean-up of the Colosseum was completed in July at a cost of 25 million euros, funded by Diego Della Valle, founder of the shoe-and-luxury goods maker Tod's.
The ancient amphitheatre stayed open throughout its three-year clean-up which used water misters and hand brushes to remove layers of pollution and grime from its northern and southern facades including 31 arches.
The project's second phase will include restoring the underground passageways, vaults and pits where animals and gladiators waited to be brought into the arena for their gruesome fights to the death.
The Italian state is paying 18 million euros for work to give the Colosseum a floor like it had in ancient times, the culture minister Dario Franceschini said in July.
The construction of a new visitor centre is also planned as part of the upgrade.
RIPRODUZIONE RISERVATA © Copyright Adnkronos.