Cottarelli vows to do 'utmost' to form govt
POLITICS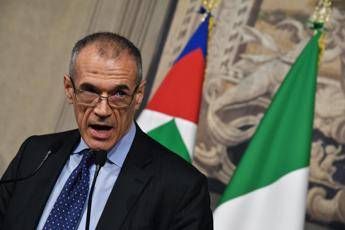 Pubblicato il: 28/05/2018 14:33
Pro-austerity economist Carlo Cottarelli on Monday pledged to "do my utmost" to form a technocrat government after accepting an invitation from Italy's president, Sergio Mattarella as the country faces fresh turmoil.
"I will do my utmost. The President has asked me to present to parliament a programme that will lead the country to elections," Cottarelli told reporters in Rome.
Cottarelli, a former International Monetary Fund director, said he planned to "rapidly" put forward a list of ministers for Mattarella's endorsement.
"I will submit to parliament a programme that if it wins a confidence vote will include the 2019 budget. In this case the parliament will be dissolved and elections will take place in early 2019," Cottarelli stated.
"If the programme receives a vote of confidence in the parliament, the government will resign immediately and its chief task will be to administer fresh polls straight after the month of August."
Sixty-three-year-old Cottarelli's planned government will be "wholly neutral" and he will not stand as a candidate in the next elections, he said.
"I will demand the same pledge from all ministers in the government," he added.
Cottarelli's government will manage Italy's public accounts prudently, he vowed.
"Despite the increased market tensions in recent days, the Italian economy is still growing and state finances are under control," Cottarelli said.
Cottarelli was tapped by the pro-European Mattarella on Monday after populist premier designate Giuseppe Conte give up his bid to form a cabinet when Mattarella rejected his choice of a prominent eurosceptic as economy minister.
Mattarella said he could not appoint 81-year-old Paolo Savona as economy minister, citing concern from investors at home and abroad.
Italy's anti-establishment Five Star Movement and the anti-migrant League - the biggest winners from Italy's inconclusive 4 March vote - are furious at Mattarella's veto of Savona and say they will block Cottarelli's nomination in parliament.
RIPRODUZIONE RISERVATA © Copyright Adnkronos.