Minister sees great Italy-Egypt cooperation prospects
POLITICS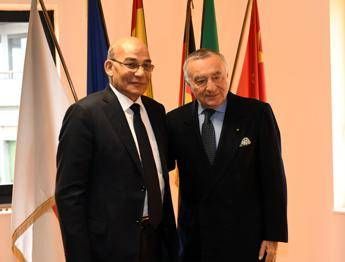 Pubblicato il: 14/02/2018 19:22
Egypt and Italy have "vast" prospects" for cooperation especially given Italy's "great experience and the techniques it has developed," Egypt's agriculture minister Abdul Moneim al-Banna said in Rome on Wednesday.
"At the moment, a bilateral cooperation accord on livestock resources is being studied, also because Italy is backing a series of projects to empower rural women and to develop the agriculture sector," al-Banna said in a statement to Adnkronos during a visit to the news agency.
Al-Banna's two-day visit to Rome to attend a meeting of the United Nations International Fund for Agricultural Development (IFAD)'s governing body comes at "an important moment", the minister said.
"It is an important moment in which the Egyptian government's absolute priority is to achieve global agricultural development in Egypt and improve food security, in the conviction that this is crucial to global social and economic development within the framework of the government's plan to implement its Agenda 2030," al-Banna stated.
RIPRODUZIONE RISERVATA © Copyright Adnkronos.