IFAD one of Egypt's key aid organisations says agriculture minister
SECURITY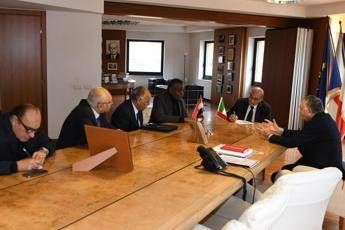 Pubblicato il: 14/02/2018 19:01
The United Nations International Fund for Agricultural Development (IFAD) is among Egypt's "most important" development partners, the country's agriculture minister Adbel Moneim al-Banna said in Rome on Wednesday.
"IFAD is among the most important development aid donors and invested 166.5 million dollars in the country between 2013 and 2017," al-Banna said during a visit to Adnkronos news agency.
"This amounts to 22 percent of total aid to Egypt destined for rural development and environmental sustainability, improved natural resource management and food security - priority sectors for the country," he said.
An 80 million dollar accord on agricultural development in desert areas is due to be signed "soon", al-Banna noted.
Al-Banna is attending a meeting of IFAD's governing body during his visit to Rome from 12-14 February.
RIPRODUZIONE RISERVATA © Copyright Adnkronos.