Tripoli, Tobruk condemn Benghazi bombing
SECURITY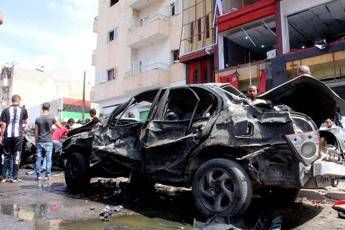 Pubblicato il: 25/05/2018 16:16
The Tripoli-based Presidential Council and the eastern-based Tobruk parliament on Friday deplored the "cowardly" car bombing in the port city of Benghazi in which at least seven people died and 20 were injured.
The Presidential Council - which has the function of head of state in Libya - said such crimes "will increase the Libyan people's determination to fight terrorism throughout the country".
Benghazi city council also condemned the blast, which took place in a busy market street in a populous area of the city. The United Nations mission in Libya (UNSMIL) earlier deplored the "ruthless" attack saying it could be a war crime.
Authorities in eastern Libya said it was a "terrorist car bomb explosion carried out by sleeper cells," the Libyan Observer reported on its website. But the paper cited locals as saying the blast was caused by a quarrel between rival militants in which a hand-grenade was thrown in to a notorious militiaman's ammunition-packed car, killing him and his brother.
No group immediately claimed responsibility for the bombing.
Forces loyal to renegade Libyan general Khalifa Haftar took control of Benghazi in 2017, after a three-year campaign against rival armed groups that left swathes of the city in ruins.
RIPRODUZIONE RISERVATA © Copyright Adnkronos.