Govt security decree targets 'crafty' immigrants says Salvini
SECURITY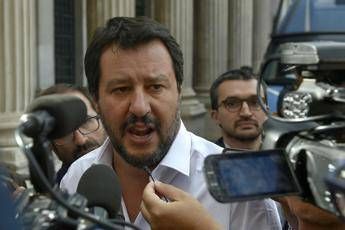 Pubblicato il: 21/09/2018 13:31
The government's forthcoming security decree will make it harder for "crafty" immigrants, Italy's anti-migrant interior minister and deputy premier Matteo Salvini said on Friday.
"If you make a claim for asylum and then punch a journalist or a policeman, your claim will be torn up and you'll go back to your country," Salvini said during a visit to the northwest port city of Genoa.
"It will be more difficult for immigrants who try to be crafty," he said. adding that the decree "gets rid of a few loopholes".
The decree, which is due to be examined by the Italian cabinet on Monday "is constitutional, respects international treaties and human rights and is commonsensical I believe," said Salvini.
Salvini has set a goal of "zero" immigration to Italy and has vowed to deport half a million illegal immigrants.
RIPRODUZIONE RISERVATA © Copyright Adnkronos.