Palestinian envoy to Italy deplores deadly Gaza violence
POLITICS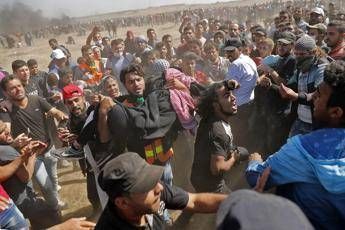 Pubblicato il: 15/05/2018 18:52
The Palestinian ambassador to Italy, Mai Alakaila, on Tuesday strongly condemned Israel over the violence in Gaza this week in which 58 Palestinians including eight children under 16 were killed and more than 2,700 people injured.
"I deplore the army of occupation's acts in Gaza in these past days and express my deep condolences for the civilian victims of the Israeli bloodbath," Alakaila said.
That the dead included children, a wheel-chair-bound disabled person and a medical aid worker mean that Monday's events cannot be described as "clashes" but as a "ferocious attack on the Palestinian people," she stated.
"I call on the Italian government and the entire international community to guarantee to our people the protection of which it has great need."
The deadly violence in Gaza took place the day that the United States opened its embassy in Jerusalem - a move that has infuriated Palestinians, who see it as clear US backing for Israeli rule over the whole city, whose eastern part Palestinians lay claim to.
"Yesterday, while the US inaugurated its embassy in Jerusalem against the wishes of the rest of the world, in the Gaza strip a massacre was carried out," Alakaila stated.
Before the violence ratcheted up this week, scores of Palestinians were killed in protests at the Gaza security fence since the end of March dubbed the "Great March of Return" and led by Gaza's Islamist rulers Hamas
"The Great March of Return begun by the Palestinian people on 30 March, which is due to end today, is a legitimate, non-violent protest to remind Israel and the whole world how the Right of Return sanctioned by (UN General Assembly ) Resolution 194 of 11 December 1948 has still not been respected," said Alakaila.
Tuesday marks the "Nakba", or "catastrophe" in Arabic, which commemorates more than 700,000 Palestinians who fled or were expelled from their homes in the 1948-49 war surrounding Israel's creation.
RIPRODUZIONE RISERVATA © Copyright Adnkronos.