Five-Star-League government blueprint 'completed'
POLITICS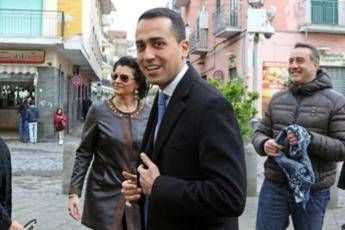 Pubblicato il: 16/05/2018 19:49
The populist Five-Star Movement and the far-right League party on Wednesday wrapped up a more-than-40-page agenda for a government - following eight days of talks - Five-Star's communications chief Rocco Casalini stated.
"There were rounds of applause at the end and we all hugged," he said.
"There is agreement on cuts to parliamentary pensions, to 'gilded' pensions and to waste," Casalini said.
A copy of the 'contract of government' will be delivered to Five-Star leader Luigi Di Maio and to League and centre-right leader Matteo Salvini "in the next few hours," Casalini stated.
The document does not include a mechanism to allow Italy to exit the euro zone, which was contained in an earlier draft of their negotiations dated 14 May, according to a report in the Huffington Post Italy.
Five-Star admitted that there were "items on hold" in the blueprint.
"The results of our work will be put to Salvini and Di Maio, so that they can discuss several issues that need to be resolved," said Five-Star member of parliament Alfonso Bonafede.
Bonafede declined to say what the sticking-points were but claimed the results achieved in joint programme of government were "extremely positive".
"I think what citizens are interested in is that all their daily problems and the solutions to these problems have been included in the document," he stated.
"First the topics, then the names," Bonafede said when asked when Five-Star and the League would unveil their candidate premier - a thorny issue as the job is coveted by both party leaders.
If the two sides agree on a prime minister, Italy's president Sergio Mattarella must approve their pick and the proposed cabinet line-up will be put to a parliamentary confidence vote.
In a live Facebook stream on Wednesday, Salvini said the two parties would update Italian president Sergio Mattarella by Monday on their efforts to form a government.
If the Five-Star-League negotiations on a tie-up collapse, Mattarella will appoint a 'neutral' caretaker cabinet to oversee fresh elections, possibly in the next few months.
Italy has been in limbo since the inconclusive 4 March election in which Five-Star emerged as the largest party and the centre-right alliance led by Salvini became the biggest political bloc.
Several previous rounds of talks with Italian political leaders since the March vote collapsed amid a mesh of seemingly irreconcilable demands.
RIPRODUZIONE RISERVATA © Copyright Adnkronos.