Italian coastguard ship with 67 migrants aboard to dock at Italian port on Wednesday
POLITICS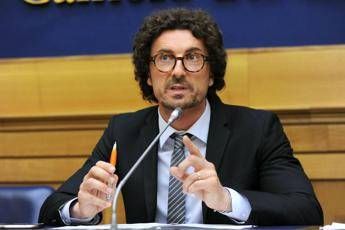 Pubblicato il: 10/07/2018 18:55
Italian coastguard's Diciotto vessel carrying 67 rescued migrants will dock at a national port "in 10 to 15 hours time", transport minister Danilo Toninelli said on Tuesday after a meeting at the prime minister's office in Rome.
The interior ministry said no Italian port had yet been indicated for the Diciotti to dock at.
The migrants will be disembarked from the coastguard's Diciotti vessel at an Italian port and questioned, transport ministry sources said earlier.
The migrants, who include Ghanaian, Sudanese, Pakistani, Moroccan and Egyptian citizens, were transferred to the Diociotto after they were rescued off Libya by an Italian commercial ship, the Vos Thalassa, on Monday.
Toninelli earlier tweeted that there would be investigations to punish "troublemakers" aboard the Vos Thalassa. Two of the migrants, a Ghanaian and a Sudanese national, allegedly made death threats to the ship's crew members.
It was not clear if the alleged death threats were made before or after Italy's hardline interior minister Matteo Salvini refused to allow the Vos Thalassa to dock at an Italian port.
It was the first time an Italian rescue ship was turned away from an Italian port due to the government's hardline policy and represented a new development in the fiery debate around migration.
RIPRODUZIONE RISERVATA © Copyright Adnkronos.