Salvini urges free and fair polls in Venezuela
POLITICS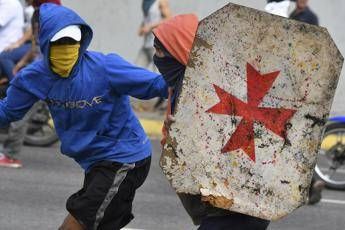 Pubblicato il: 28/01/2019 14:26
Italy's far-right interior minister and deputy prime minister Matteo Salvini on Monday joined international calls for free and fair elections to be held in crisis-hit Venezuela as soon as possible.
"I am against exporting democracy but so many Italians living in Venezuela and Venezuelans living in Italy claim that Maduro foments violence and flouts the law," Salvini said on Italy's Rtl 102.5 radio station.
"It's clear that there is hunger, a shortage of medicines, lawlessness, violence, repression and a lack of democracy," he went on.
"So the sooner Venezuelans can freely return to the ballot box, the better it will be for everyone," Salvini said.
Juan Guaido, the elected leader of the opposition-held National Assembly, declared himself the interim president on 23 January after leftist President Nicolas Maduro was sworn in for a second term earlier this month following an election marred by an opposition boycott and allegations of vote-rigging which triggered large protests.
Italy's foreign minister Enzo Moavero Milanesi said in a statement on Saturday that his country"fully endorses" a statement by issued by several European countries hinting that the entire 28-nation body could recognise Guaido as Venezuelan leader if Maduro didn't announce fresh elections soon.
Moavero said Italy had helped draft Saturday's statement - which was issued by countries including Spain, Germany, France and the UK.
"We call for an effective national reconciliation and constructive initiatives aimed at avoiding serious and negative developments, assuring respect for fundamental rights and enabling a prompt return to democratic legitimacy, guaranteed by free and transparent new elections," said Moavero.
RIPRODUZIONE RISERVATA © Copyright Adnkronos.