Protesters clash with police in Venice at Renzi-Holland summit
SECURITY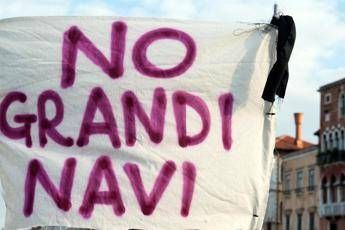 Pubblicato il: 08/03/2016 18:25
Environmental protesters clashed with police off the lagoon city of Venice on Tuesday and tried to break through a security blockade as an Italo-French summit got underway.
TV footage showed the protesters' boats ramming police vessels in choppy waters as they tried to enter the high-security 'red zone' off St Mark's Square. Police used water-cannon against the protesters, who responded by firing red smoke bombs into the air.
The environmentalists are demonstrating against the presence of large cruise liners in Venice.
They are also protesting a controversial high-speed rail link between the northwestern Italian city of Turin and the French city of Lyon, which they have campaigned against for years, claiming it will damage the ecosystem of the Alps.
At the Venice summit, Italy's prime minister Matteo Renzi and France's president Francois Holland are due to sign an agreement aimed at preventing possible mafia infiltration of the multi-billion euro train link being built by a Franco-Italian consortium.
Also on the summit agenda are Europe's migration crisis, the conflict in Syria and tensions in Libya, amid rumours of imminent French or Italian military action amid growing unrest and the expansion there of the Islamic State jihadist group.
The Elysee said the two leaders would coordinate their support for a national unity government in Libya, which they see as "imperative for the stabilisation of the area".
Italy has said that only a unity government could approve international intervention in Libya endorsed by a parliamentary vote.
RIPRODUZIONE RISERVATA © Copyright Adnkronos.