Fourth earthquake rocks central Italy
SECURITY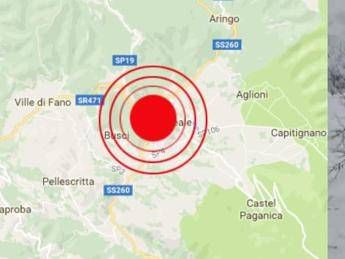 Pubblicato il: 18/01/2017 16:18
A magnitude 5.1 temblor hit central Italy at 14.30 local time on Wednesday, the fourth strong quake to strike the area in five hours, Italy's National Institute of Geophysics and Vulcanolgy said.
All four of Wednesday's quakes had their epicentre was in the province of L'Aquila in the Abruzzo region, said the institute.
The institute said it had registered over 100 tremors along Italy's quake-prone mountainous spine on Wednesday.
The earlier three quakes on Wednesday struck between 10.25 and 11.25 am local time and their magnitudes measured between 5.1 and 5.4, the institute said.
There was fresh damage to buildings in medieval villages and hill towns but no reports of casualties in the area, which was devastated by a deadly quake last August and two strong ones last October.
Wednesday's quakes were felt in Rome, where many schools and offices were evacuated and the subway was closed. Schools will remain shuttered in the Marche region on Thursday, officials said.
The latest earthquakes follow heavy snowfalls and power outages this week in Abruzzo and other regions the quake zone which emergency services said were hampering their efforts to reach cut-off areas.
Many locations in the quake zone are largely uninhabited after residents were evacuated to temporary accommodation following last year's earthquakes, but there are concerns for local farmers and others who have remained, including the elderly.
RIPRODUZIONE RISERVATA © Copyright Adnkronos.