New benches outside Mussolini's Rome HQ labelled 'Benito'
POLITICS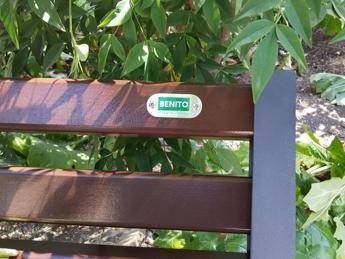 Pubblicato il: 16/06/2016 16:53
In a quirk of fate, new benches outside Rome's Palazzo Venezia Museum - headquarters of World War II Fascist dictator Benito Mussolini - have metal tags affixed to them reading 'Benito', the name of a Spanish firm that supplied them.
"It's funny, we had to smile when we noticed this after the benches arrived," said the museum's director Sonia Martone.
"It's a sign, an ironic twist of fate," Martone added saying it would be "absurd" to remove the labels.
"There's an obelisk at Rome's [Fascist era] Foro Italico [sports complex] that has the world 'Dux' written on it but no one has ever talked about removing it," she said, referring to the Latin version of 'Duce'.
The 'Benito' benches are in a new garden created from a former parking lot at the museum in Rome's central Palazzo Venezia described by Italy's culture minister Dario Franceschini as "a sort of oasis in the heart of Rome."
The garden has lamposts and Wi-Fi and is open to the public in the daytime and in the evening. A series of summer concerts, debates and musical performances will be held there from 20 June to 16 September.
Palazzo Venezia was Mussolini's headquarters from 1929 until his deposition in July 1943, after the Allied landings.
RIPRODUZIONE RISERVATA © Copyright Adnkronos.