Renzi, Merkel, Hollande in summit to mull EU's future post-Brexit
POLITICS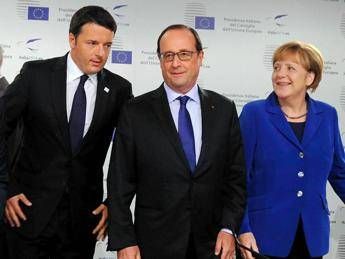 Pubblicato il: 22/08/2016 13:07
Italy's premier Matteo Renzi was on Monday due to host crisis talks with Germany and France's leaders on the European Union's future in the wake of Britain's shock decision to leave the 28-member bloc.
Renzi, German Chancellor Angela Merkel and French president Francois Hollande were expected to tackle the ongoing refugee crisis, Europe's economic woes and security after the string of terror attacks that hit French and German cities last month.
The high-security summit being held on the tiny Italian island of Ventotene aims to show unity between Europe's three biggest countries after Britain's June vote to leave the EU threw doubt on the bloc's future.
"We need to get investments started again," Renzi said ahead of the summit, adding: "Austerity has only wrought damage in Europe".
Italy has much to gain from a revitalised EU as GDP growth has stalled and it struggles to cope with the continuing influx of migrants heading to Europe via its shores.
"The migrant problem is European, not Italian," Renzi stated.
Italy also faces political uncertainty over a referendum on constitutional reforms this autumn on which Renzi has staked his government's future.
Renzi, Merkel and Hollande were due to meet on Monday afternoon and brief journalists and dine on the Italian navy's Garibalidi aircraft carrier before returning Naples Capodichino airport.
They will earlier fly by helicopter to Ventotene to pay their respects at the tomb of Altiero Spinelli, one of the EU's founding fathers, an anti-fascist who was imprisoned on the island during World War II.
While he was in jail on Ventotene, Spinelli wrote a manifesto for a federation of European states to counter the nationalism that led Europe to war, which is considered the inspiration of European federalism.
Monday's mini-summit comes ahead of an EU-wide one in Bratislava in September that is intended to chart the bloc's future post-Brexit.
RIPRODUZIONE RISERVATA © Copyright Adnkronos.