Haftar's return should help stabilise Libya says Italian envoy
POLITICS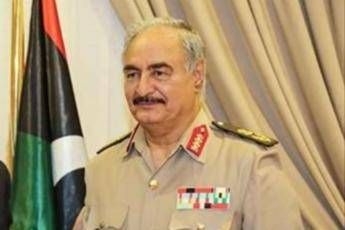 Pubblicato il: 27/04/2018 18:36
Military strongman Khalifa Haftar's return to Libya after a two-week stay in France for medical treatment could offer hope for the future stability of the conflict-wracked country, Italian ambassador Giuseppe Perrone told Adnkronos International (AKI) on Friday.
Perrone was speaking after 72-year-old Haftar returned to the eastern city of Benghazi on Thursday aboard a flight from Cairo and told senior army commanders and local elders in a televised address from the airport that he was in good health.
Authorities in eastern Libya did not issue pictures of any detailed information about Haftar during his stay in Pairs, fuelling speculation over the gravity of his condition and its possible impact on Libya.
"Obviously, it is pleasing that the general is well and that he may contribute to national reconciliation and to Libya's stabilisation," Perrone said.
"It is to be hoped he can continue to make a positive personal contribution to taking this process forward."
"I hope that his presence may serve as a unifying force," said Perrone.
Haftar has steadily extended his grip on eastern Libya and parts of the south, last year capturing Benghazi after a three-year military campaign.
Since 2016, Haftar has controlled all the oil ports and main fields in the east, where most of Libya's oil resources lie. But he has struggled to contain local militias there and his Libyan National Army has been unable to take the eastern city of Derna, which is controlled by armed rivals.
"Hopefully, Hatfar will be able to unite all the various local forces," Perrone stated.
Haftar has vowed to drive out Islamist militants and to free Tripoli of militias. He also opposes the United Nations-backed transitional government that has been trying to establish itself in the capital for the past two years.
The UN has said it hopes national elections can be held in Libya by the end of year, something which is "a generalised wish" among the country's population according to Perrone.
Haftar's return to the political scene can help the country move towards national polls "first and foremost a new constitution and the approval of an electoral law," Perrone said.
"The vote is inevitable for the credibility of the whole reconciliation process," he stated.
The UN has been spearheading efforts to reunify the nation of six million people that has been divided since 2014 between rival governments and military alliances based in its east and west.
RIPRODUZIONE RISERVATA © Copyright Adnkronos.