EU ready to negotiate over US tariffs says Italian premier
POLITICS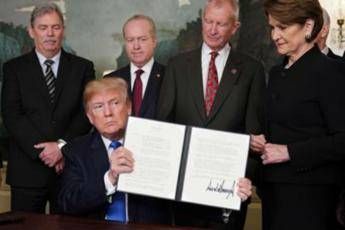 Pubblicato il: 17/05/2018 19:01
The European Union is ready to hold talks with the United States and hopes it will be permanently exempt from the recently introduced US tariffs on steel and aluminium, Italian prime minister Paolo Gentiloni said Thursday.
"If, as we all hope, European countries are permanently exempted from the tariffs imposed by (US President Donald) Trump, we are ready to negotiate in a constructive spirit," Gentiloni stated.
Gentiloni was speaking at an EU-Western Balkans summit in the Bulgarian capital, Sofia.
"There is no advantage for us in starting a trade war," Gentiloni said.
Most EU countries including Italy are US allies in the world's biggest security organisation, NATO.
Trump in March slapped tariffs of 25 percent on steel imports and 10 percent on imported aluminium but granted the 28 EU countries a temporary exemption until June 1.
The EU disagrees with Trump's claim that the tariffs are to bolster US national security and views them as protectionist measures. It believes the tariffs breach global trade rules and is ready to impose 2.8 million euros (3-4 billion dollars) of 'rebalancing duties' on US products if it is not permanently exempted. It has vowed not to negotiate under threat.
The US and China on Thursday launched a second round of trade talks to try to avert a damaging tariff war, with the Trump administration demanding a 200 billion dollar cut in China's US trade surplus and greater protection for intellectual property.
RIPRODUZIONE RISERVATA © Copyright Adnkronos.