Salvini to meet Hungary's far-right PM Orban
POLITICS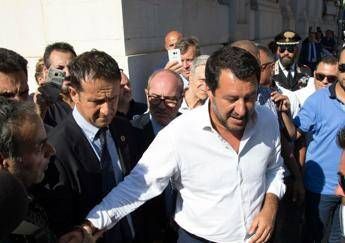 Pubblicato il: 24/08/2018 12:48
Italy's anti-migrant interior minister and deputy premier Matteo Salvini will meet Hungary's far-right prime minister Viktor Orban in the northern city of Milan "in the next few days," Salvini said on Wednesday.
"Most of Italy wants a stop to immigration," Salvini told Milan-based daily Corriere della Sera on Friday.
"In the next few days I will meet Viktor Orban in Milan...we'll have a lot to talk about," Salvini said.
Salvini's remarks came amid a standoff with the European Union over the fate of 177 migrants currently stranded aboard an Italian coastguard ship at the Sicilian port of Catania.
Salvini has refused to allow the rescued adult migrants to come ashore unless other EU countries agree to accept some of them.
The Italian government was "irritated" that the EU had taken in just 12,000 migrants, failing to deliver on pledge to take in 35,000, Salvini told Corriere della Sera.
"It can't be a surprise that we have decided to take a strong line," said Salvini.
He has vowed that "zero" migrants will enter Italy and has barred NGO rescue ships from delivering migrants to the country's ports.
"We've had success with the NGOs, now we need to force the EU to fulfil its obligations," underlined Salvini, who is now Italy's most popular and trusted politician according to opinion polls.
Salvini late Wednesday allowed 30 minors to disembark in Catania from the Italian coastguard vessel the Diciotti after an appeal from the United Nations refugee agency UNHCR and from medical charity Doctors without Borders.
The remaining migrants on the Diciotti including 10 women spent their seventh night on the ship on Wednesday and their second moored in Catania's port.
Italian public prosecutors have opened a probe into "persons unknown" for "illegal detention" and false imprisonment in the case.
Salvini had previously threatened to send the migrants on the Diciotti back to lawless Libya should no European solution be found.
The child migrants aged 14-17 allege they were held in Libya for up to three years and were detained in a darkened room or container for eight months before setting sail for Europe. Some weigh just 35 kilogrammes according to the Save the Children charity.
RIPRODUZIONE RISERVATA © Copyright Adnkronos.