Di Maio's threat to halt EU budget payments 'fanciful' says Tajani
POLITICS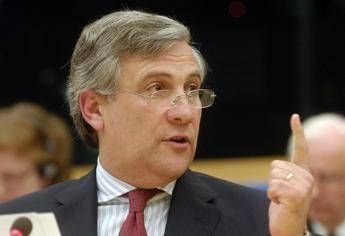 Pubblicato il: 31/08/2018 16:32
Threats by Italy's deputy premier Luigi Di Maio to suspend the country's payments to the European Union budget over migration are out of touch with reality, European Parliament president Antonio Tajani said on Friday.
"To halt payments to the current EU budget is not possible. It is illegal and would only damage Italy," Tajani said in a interview with Italian Catholic newspaper Avvenire.
"Di Maio's approach is self-harm and is also fanciful," Tajani said, advising Italy instead to negotiate hard on its contributions the bloc's next long term budget running from 2021 through 2027.
Italy pays 13 billion euros into the EU's coffers annually and only gets 11 billion euros back "but that two billion euro difference is worth 225 billion euros of trade," Tajani claimed.
EU budget commissioner Guenther Oettinger warned on Thursday that Italy faced interest payments if it vetoed the EU's seven-year budget plan and refused to pay its budget contributions in a bid to force the bloc share to the burden of migrant arrivals.
Di Maio made the threat in Italian media interviews after representatives from EU countries on 24 August in Brussels failed to agree a common approach on migration and to follow through on a deal reached in June at a summit of EU leaders to manage the influx of migrants to the bloc, easing the burden on Italy and other front-line states.
Some 700,000 boat migrants have reached Italy since 2014 and the populist government that took office on 1 June has vowed to deport half a million and halt further arrivals.
RIPRODUZIONE RISERVATA © Copyright Adnkronos.