Police committed torture at Genoa G8 summit rules European Court
SECURITY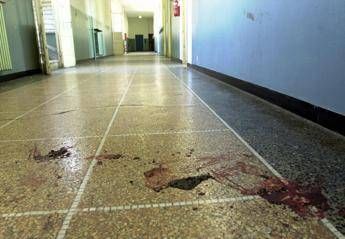 Pubblicato il: 22/06/2017 19:26
Italian police tortured activists and journalists during a night-time raid on a school in Genoa where they were staying during the 2001 G8 summit, the European Court of Human Rights ruled unanimously on Thursday.
The police beatings of dozens of people sleeping at the Armando Diaz school constituted torture due to: "the severe physical and psychological suffering it had caused them and its particularly serious and cruel nature," the court said in its ruling.
In "uncontrolled violence", masked anti-riot police "systematically" beat "each of the school's occupants, including those who were lying down or sitting with their hands up" during the raids, said the ruling.
The savage beatings were meted out "despite the fact that the occupants had not committed any act of violence or resistance against the police," the court's seven judges said.
The court also condemned Italy for failing to adequately punish those responsible for the raids, which took place on the fringes of the G8 summit in Genoa in July 2001, an event that was marred by violence, including the shooting dead of an anti-globalisation protester by police and looting.
The court ordered Italy to pay damages of between 45,000 and 55,000 euros to individual applicants in the case and a joint sum of 59,750 euros in costs.
Eighty-two people were wounded in the raid, 61 of them seriously and three critically, while a British journalist was left in a coma with rib and spinal injuries. Many people were beaten senseless and had bones broken and activists allege police pulled them from hiding-places.
Later, at the police barracks in Bolzaneto, 252 demonstrators rounded up at the Diaz and another school said they were spat at, verbally and physically humiliated or threatened with rape while being held.
Officer planted evidence including two Molotov cocktails, hammers and knives from a nearby building site to justify the raid, which Amnesty International called "the most serious suspension of democratic rights in a Western country since World War II".
In 2012, 25 police officers were found guilty of falsifying evidence concerning the Amando Diaz raid but none served jail time, due to the expiry of Italy's statute of limitations.
The national police chief at the time of the Genoa G8, Gianni De Gennaro, was acquitted at the end of the appeals process.
Following repeated requests from the court for Italy to pass a torture law to punish such episodes of brutality as occurred in Genoa, the Senate upper house of parliament in May this year approved a bill introducing the crime of torture.
In late April this year, Italy admitted responsibility for the police brutality at the Bolzaneto barracks during the Genoa G8 and agreed to pay 45,000 euros each to six victims, the European Court of Human Rights said.
RIPRODUZIONE RISERVATA © Copyright Adnkronos.