Italian coastguard ship to dock in Trapani with 67 rescued migrants
SECURITY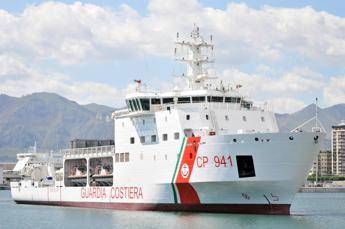 Pubblicato il: 11/07/2018 14:47
An Italian coastguard vessel with 67 rescued migrants on board will dock late on Wednesday at the port of Trapani on Sicily's west coast after the ship was stranded for several days awaiting instructions from officials.
The migrants were transferred to the Italian coastguard's Diociotto vessel on Monday by an Italian supply ship which rescued the migrants off Libya on Sunday before being barred from docking at an Italian port by hardline interior minister Matteo Salvini.
It was the first time that an Italian ship was refused permission to dock at an Italian port - a move that added a new element to the debate around migration and which Italy's welfare and industry minister Luigi Di Maio on Wednesday slammed as "unthinkable".
The ship, Vos Thalassa, which serves oil rigs in the Mediterranean, responded to a distress call from the migrants and reached their boat before Libyan coastguard, who are responsible for rescues in Libyan waters.
A Sudanese and a Ghanaian migrant who allegedly rioted and made death threats to the Vos Thalassa's captain are expected to be questioned when they arrive in Trapani.
"If there are individuals on board who made threats and attacked people, they won't be put up in a hotel but will go to prison," Salvini said on Wednesday. "After a spell in jail, they will be deported," he added.
Salvini vowed that none of the migrants would disembark unless he received "guarantees - for the safety of Italians" that the "violent hijackers" of the Vos Thalassa "come off the Diciotti in handcuffs".
"I am waiting for confirmation of the names, surnames and nationalities of these violent hijackers, who should come off the Diciotti in handcuffs," he stated on Facebook.
The entire Italian government was "absolutely" clear on the need to strengthen security for Italian citizens and get other European states to share the burden of migration from Africa, Salvini said earlier on Wednesday.
RIPRODUZIONE RISERVATA © Copyright Adnkronos.