Eni reaffirms commitment to Libya
SECURITY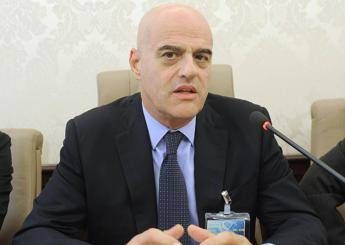 Pubblicato il: 08/07/2020 16:29
Eni's chief executive officer Claudio Descalzi on Wednesday held talks with Libya's premier Fayez al-Sarraj and National Oil Company president Mustafa Sanalla to underline the Italian oil major's unwavering commitment to its operations in the war-ravaged country and amid the COVID-19 pandemic, Eni said in a statement.
Eni is also committed to investing in Libyan society, Descalzi told Sarraj, citing the example of its activities to help NOC in providing essential medical protective gear, equipment and supplies needed to fight Libya's Coronavirus outbreak, said the statement.
In line with the activity defined in the Memorandum of Understanding signed with General Electric Company Of Libya and NOC, Eni is making a major contribution to improving the power sector, supplying additional critical spare parts to maintain the continuity of 3 gigwatts, the statement added.
Eni is also providing capacity building and technical support to define the code regulation of the national electrical power network and improve its operability, the statement noted.
Eni is also studying the development of a new gas power plant and is supporting the start-up of renewable pilot projects in the country, making available its know-how and expertise. The introduction for the first time of renewable energy in Libya will meet its population's need for more electrical power without increasing local fossil fuel consumption and CO2 emissions, according to the statement.
Eni's current and future projects in Libya include Structures A&E which will extend the gas production plateau of Bahr Essalam in the coming years and will ensure the supply of gas to the local market, where Eni will continue to be the main supplier, the statement said.
NOC and Eni are also studying the possibility of further developing the Bouri oilfield, with a view to fully exploiting the potential of under-developed areas in Libya's north and west, the statement went on.
Descalzi praised Sanalla for NOC''s unstinting commitment to ensuring business continuity, logistics support and crew changes for local staff as well as the "great" effort made by Mellitah Oil&Gas management and employees and all the contractors involved in the activities, despite "the current complex and unprecedented scenario".
Descalzi also paid tribute to NOC's strenuous efforts to end the more-than-six-month-long blockade that has halted production from Libyan onshore oilfields including fields in which Eni has a stake (El-Feel and Abu-Attifel).
Besides slashing Libyan oil revenues, the prolonged blockade also risks damaging existing oil facilities, Eni underlined.
Eni is the main international hydrocarbons producer in Libya, where it currently produces 170,000 barrels of oil equivalent per day in equity.
RIPRODUZIONE RISERVATA © Copyright Adnkronos.