Conte holds talks with Tusk in Rome
POLITICS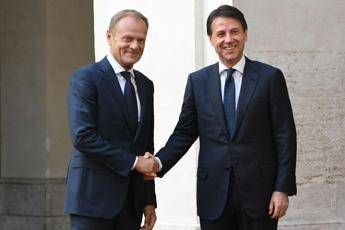 Pubblicato il: 10/09/2018 13:05
Italy's premier Giuseppe Conte had a one-hour meeting at with European Union Council president Donald Tusk on Monday in Rome. No information was given on the content of Conte and Tusk's talks.
Tusk will meet Germany's Chancellor Angela Merkel in Berlin on Tuesday, according to Tusk's office.
Increasing internal and external security and strengthening multilateral cooperation are among Tusk's priorities for the autumn, according to a statement on the European Council's website.
Tusk's meetings will also focus on boosting the EU's economy and trade, as well as on managing Britain's exit from the EU scheduled for March next year.
A lack of EU reform since the Brexit referendum could force Italy to reconsider its membership of the bloc, a senior advisor to deputy premier Luigi Di Maio, Ignazio Corrao, told Britain's Daily Telegraph newspaper on Sunday.
Italy has been at the centre of euro-area financial volatility this year after eurosceptic parties rose to power and investor concern about their policies led to a meltdown in the country's bonds in late May.
The populist Italian government is due to submit its budget for EU approval in just over a month.
Italy's finance minister Giovanni Tria said Rome could set a budget that will reduce the nation' debt pil and improve its structural position but did not say if it would meet all of the EU's fiscal tightening requirements.
Di Maio's Five-Star Movement and its coalition partner the far-right League party have long argued that Italy has been unfairly hit by EU-imposed austerity, which has led to a lack of investment.
RIPRODUZIONE RISERVATA © Copyright Adnkronos.